Shalom

I was thinking about how the enemy operates in the lives of those who he dominates in this world. It seems to me that those who have not surendered their lives to our LORD are under the dominion of the fallen ones. I have had numerous experiences that I believe were orchestrated by the enemy to discourage, frustrate , anger or confuse me.

This is what I mean,(possible examples)...You are running late to work. on the way out the driveway you notice the the garbage can has been tipped over presumably by dogs. You have to stop to pick it up....You are in traffic and behind some of the slowest drivers you ever encounter,or people cut you off in traffic.... you are at the grocery store and short on time ...the person in front of you has three price checks while you are waiting...Someone misplaces very important paperwork that you need immediately at your place of work(unexplainably)...You go to your car in the parking lot and see someone has parked immediately next to your vehicle and opened the door denting your car even though there are several open spaces closer to the store.....the list goes on and on.
I personally believe that these are often insidents that the enemy orchestrates to vex our spirits and distract us.To get our minds off the LORD and on our flesh. These things happen so often to me I have to laugh when they do.Anyone here ever experience this type of attack?

I need to clarify that I am not saying anything about people being demon possessed or evil. Just normal everyday people who are still in bondage to sin and are manipulated subtlly to disrupt or interfere. This may sound crazy but I can almost count on things happening at certain times. I have even pointed this out to certain friends when they were with me. They were suprised to see that the situations arose just as I indicated they would.

Ok then there is the situation of outright demonic possesion or oppression that you may encounter as a direct attack or reaction to your presence. Someone gets extremely hostle toward you at work(or in traffic) for no apparent reason. You can almost see murder in their eyes and there is no real explaination for it . I have heard of several cases of road rage where physical violence was done for minor traffic incidents . I live in a smallcommunity of seven thousand and not in a metro area. I do believe many of those events are demonicaly influenced. These are incidents that occur in everyday life and situations like murders ,beatings and rapes etc happen on an increasing rate.

I was in a shop one day with a friend who is very sensitive to spiritual presence and manifestation. He pointed out one of the cashiers who he told me was involved in occult activity. The person was fifty feet away in the store and this friend did not know them at all. I shrugged it off though I did also sense something unusual about the person as I checked out my purchase. Several weeks later I was in the same store and at the check out directly across from this individual. Her back was to me and I had never even spoken to her at either time. She had several people in line waiting.It was very busy. As I looked across at the back of the individual in question. She stopped what she was doing and in the middle of a customer checkout.She straightened up and slowly turned toward me so she was facing me and stared directly at me with a look of apprehension and maybe hostility on her face. It was a very unatural situation and was almost like the spirit inside her was aware of my presence and caused her to turn. This situatin sticks in my head but I have had several less dramatic experiences in the past. I do know it is not imagination.Something spiritual was taking place.
Anybody have any situations that they remember with similar events?

Blessings in Yeshua!
_________________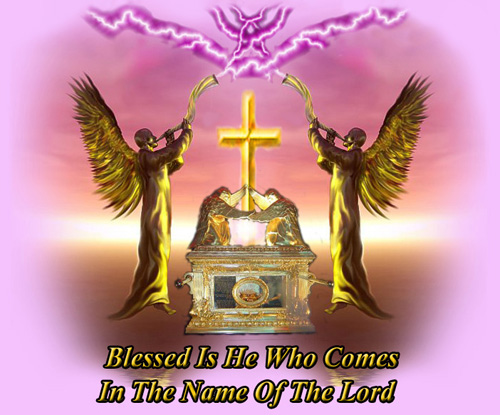 4Zion Moderator





Number of posts

: 306


Age

: 63


Location

: Northern Idaho


Registration date :

2008-03-19



Yes, I have had similar experiences, the atmosphere of our earth is full of demons that live in the upper atmosphere of our planet. This is found in Ephesians 6:12. We know that there are 1/3 of the angelic beings that fell from heaven. But did you ever stop to think about just how many there are, just 1/3 is almost beyond what man is capable of counting. When some body is tempted to sin a great horde of them come and swarm around them like flies to strengthen the temptation. If we actually could see into the Spirit world we would be scared half to death. But we Christians have the Lord, the King of angels to protect us from the demonic forces at work in our world. Thank you Jesus Yeshua for being there for us. Praise and honor to you for ever and ever. Lee
Administrator





Number of posts

: 650


Age

: 45


Location

: USA


Registration date :

2008-02-03



Yes, I have had similar experiences.
I believe those who are gifted strongly with evangelism also have a strong gift of spiritual discernment. Primarily because those who are blessed with the gift of evangelism have to be able to discern the spirituality of the person they are evangelizing.
I personally have walked into houses, businesses, hospitals, and even churches, and have had my spirit troubled.
Allow me to give an explicit example. I was the assistant Pastor in a residential church. I noticed one Sunday that many of the houses in the neighborhood had people mowing their lawns, sitting on the front porch, or playing with their children. I especially noticed a lady sitting on her front porch on a daily basis, just staring menacingly at the church and the people. I decided one day to approach her, as I took my first step in her direction, I felt an overwhelming sense of uneasiness overcome me. I prayed to God, if it was from Him to keep it going, and if it was from the enemy, to remove it. It quickly dissipated, but I heard a loud audible horrific scream. As I got closer to the woman to introduce myself, she stood up and started yelling at me. It was a profanity laced torrent at me. I stood there in the street, and let her rant for a couple of minutes. Finally, her neighbor came out to see what she was yelling about, and calmed her down. He informed her that I was truly a nice gentleman, and was not going to harm her. Her neighbor and her came out to the street to greet me and the first words out of the woman's mouth was: "How dare you come over here to me, after all the hateful things you have said about me. Don't come asking me for forgiveness, because I hate you and don't want you around." Only it was a little more profane. She told me that whenever she saw me, she felt an sense of hatred and uneasiness about me, so she knows, within her own spirit, that I have badmouthed her. She was never comfortable in my presence. She told me, "The spirits around me are uneasy with you, so you must be evil." I apologized to her, and informed her, I am a Christian, and I would never do anything to harm her. I told her I was the assistant Pastor and would really like to meet her in a neutral site and get to the bottom of her hatred. She turned me down, as I expected, and told me to go away (again more profane). As I was leaving a verse came into my head, "You, dear children, are from God and have overcome them, because the one who is in you is greater than the one who is in the world." (1 John 4:4).
Was my meeting with her a failure. Not at all, God truly worked through that. I later found out that this woman was a high ranking member of the local Wiccan community, and that she was praying for the destruction of the church. Before the week was over, her house caught fire and she was forced to move away. Within a month, her daughter and son-in-law were won over the Christ and became faithful members of the church. Though, her hardened heart has yet to soften, I pray that the actions of her children and grandchildren will bring her the peace that only God can offer.
Daniel V Moderator




Number of posts

: 185


Age

: 46


Location

: Kansas


Registration date :

2008-03-23



DanielV wrote:
great story
Servant ||||





Number of posts

: 355


Location

: Usa Ohio


Registration date :

2008-02-23




---
Permissions in this forum:
You
cannot
reply to topics in this forum