What does everyone think of John Edwards? Is he fake? Can he really comunacate with sprits? My curious mind wants to know.
Servant ||||





Number of posts

: 133


Location

: Houston, Tx


Registration date:

2008-02-10



If you are asking if he can talk with your dead loved ones,
no he defiantly can not. When a person dies, he either goes straight to heaven
or hell, however, there is another side, it is the side of the world of demons, demons act like your dead
loved ones to fool you. Why they want to fool you is not clear. Maybe itís
their way of getting you to trust them so they can more easily trap you. I donít
know if John Edwards knows exactly what he is doing, I think he does know he is
in contact with evil Spirit from the other side.
Administrator





Number of posts

: 621


Age

: 40


Location

: USA


Registration date:

2008-02-03



What John Edwards does is called a "cold reading". He begins with a very genaralized and broad statement, that could incorporate almost anyone in the audience. Then he begins to narrow it down, again though with generalized statements. Once it's down to a couple of people, he begins to become specific through generalized statements. Then he bestows a comforting word to the person. For example:
John Edwards will come out and face the audience and say, "Someone here lost a loved one within the last six months." Hands will shoot up. "He was a male". Some hands come down. "He was an uncle." A couple more hands. "It was unexpected." A few hands are left. "I see his name forming and it begins with the letter P... oh wait, it might be an R" and while doing that, he is studying to the audience to see if anyone fidgets or gives a body signal that he hit the right letter. So he goes a little through the alphabet until he gets a letter that the person is thinking of. Many times, he'll fumble through a name until the person tells him, and then he'll say something to the effect, "He wants you to know that he is at peace and is crossing over to the other side, so you shouldn't be worried about him." Most, if not all, of the time, there isn't anything prompting him (spirit or otherwise), it's just use of mob psychology. He is using strong emotions, to get people to believe that he is contacting a dead family member.
What a sin, He is getting rich off of poor peoples emotions. And the really sad thing is that they believe him. He knows that most of the people in the crowd most likely does not know the Bible, if they did, they would know that There dead loved ones is either in Heaven or Hell, and that they canít contact them. But they can contact demons that make believe that they are their dead loved ones. There is a lot to the unseen world, and all of it is evil. The world that they are coming in contact with that is. This is because the devil and all of his evil forces are cast down to us from Heaven. Let us always be on guard against the devil and his demons. Lord Jesus, keep us safe, by the power of your name.
Administrator





Number of posts

: 621


Age

: 40


Location

: USA


Registration date:

2008-02-03



Thank you Daniel, for exposing the darkness of men, you have
done this so well with proof and strait to the point. Here is another Pastor
that is so misleading the flock. Rick Warren, I had a book by him which will go
to the fire. May our Lord be always with you and your family. Anna

http://www.youtube.com/watch?v=JUb8DuArgnw&NR=1

Rick Warren false teacher.
Last edited by Anastasia on Sun Jul 20, 2008 11:14 am; edited 1 time in total (Reason for editing : Sorry I meant to give you this link.)
Co-Administrator





Number of posts

: 1048


Location

: USA


Registration date:

2008-02-03



I don't mind churches that are "seeker helper", those churches that will truly help those that are seeking the Lord. I do have major problems with churches that are "sin friendly" (those that teach that your sins don't matter to God). We are all lost in our sin and will die in our sin, if we do not accept Christ
It's amazing to me that you commit the most hanis sin and all you have to do is ask God for forgiveness and really mean it and that sin is gone. Or is that false teachings?
Servant ||||





Number of posts

: 133


Location

: Houston, Tx


Registration date:

2008-02-10



johnsorensen wrote:It's amazing to me that you commit the most hanis sin and all you have to do is ask God for forgiveness and really mean it and that sin is gone. Or is that false teachings?
In one sense it is a false teaching, because there must be repentance behind the asking of forgiveness. Repentance is something that is mistaught or not taught at all.
Repent does not mean to "feel sorry" it means to "do a complete change" or "an about face" or "to think differently" Literally it means to "change direction" or as some would feel "to do a 180". If you're heading down a road and you repent, you completely change direction and go away from the direction you are heading.
Now, if you truly seek forgiveness in your heart, if you ask God to forgive you, that sin is really gone.
"Repent, then, and turn to God, so that your sins may be wiped out, that times of refreshing may come from the Lord" (Acts3:19)
"If we confess our sins, he is faithful and just and will forgive us our sins and purify us from all unrighteousness." (1 John 1:9)
"'This is the covenant I will make with them after that time, says the Lord. I will put my laws in their hearts, and I will write them on their minds.' Then he adds: "Their sins and lawless acts I will remember no more.'" (Hebrews 10:16,17)
"'But if a wicked man turns away from all the sins he has committed and keeps all my decrees and does what is just and right, he will surely live; he will not die. None of the offenses he has committed will be remembered against him. Because of the righteous things he has done, he will live. '" (Ezekiel 18:21,22)
"Here is a trustworthy saying that deserves full acceptance: Christ Jesus came into the world to save sinnersóof whom I am the worst. But for that very reason I was shown mercy so that in me, the worst of sinners, Christ Jesus might display his unlimited patience as an example for those who would believe on him and receive eternal life." (1 Timothy 1:15,16)
So if there is no repentance, no change, thus continuing to live in sin, is there forgiveness for the sin?
It seems to me that the belief in speaking to the dead is in the same catagory as aliens from another planet. The impression is given that the scriptures are not quite accurate and perhaps things are actually differant in the afterlife then what the Bible tells us. Theories like evolution have the same effect. Undermining the faith of the believer.The deception is much like the one satan used in the garden" Did God really say?" The question of whether our beliefs are accurate undermines faith. This is the main game plan of the fallen angels and demons. The destruction of the human race both physically and spiritually begins with the manipulation of the mental process and inspiring doubt. Questions like "Why would God allow suffering?" How could God allow this to happen ?"etc etc. Inspiring doubt and confusing the minds of men. Yeshua said," Those who are not for me you are against me!" and can a man serve two masters?"a house divided against itself ,CANNOT STAND!"

The dividing of the house of YHWH is evident in the thousands of denominations of christiandom. The divide and conquer stratigy of the adversary seems to be working very well. We can see this right down to the personal level with the dividing of husbands and wives ,parents and children. Rebellion and doublemindedness.Excuse for sin rather then repentance.

The word Kosher comes from Kodesh which means to be set apart and holy. We use this term almost exclusivly in referance to food but Yah's people are intended to be "Kodesh" or kosher. Set apart unto YHWH. To be a perculiar people that do not fit in this world. We are in fact behind enemy lines. This world is occupied territory. The earths dominion has been wrested from mankind and until Yeshua returns to reclaim and restore it the earth will groan and travail. The ravages of sin will dominate and death will be mans unavoidable destiny. PRAISE YHWH for the provision of our atonement! Yeshua is THE WAY, THE TRUTH and the LIGHT! He is the exit door from this fallen world into His glorious kingdom.

How many times in Matt. 24 did Yeshua say "do not be deceived! Or be careful that no one deceives you!" This is a major thing for us to realize. There will be a great falling away an apostacy in these last days. If it were possible even the elect (chosen) would be deceived! This reminds me that we are to stand watch. Recognizing the wiles of the evil one. Spiritism or extraterresials are just small parts of the Psy Ops of the enemy. We must put on the FULL armor of YHWH and as Paul wrote "having decided to stand (a choice) STAND FIRM then!"

Blessings in Yeshua!
_________________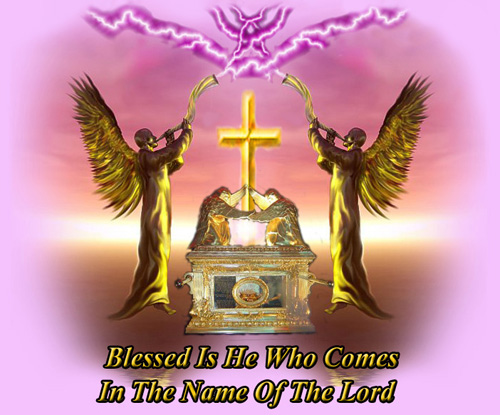 4Zion Moderator





Number of posts

: 306


Age

: 58


Location

: Northern Idaho


Registration date:

2008-03-18



---
Permissions in this forum:
You
cannot
reply to topics in this forum